The University Sports Centre way of Studying
29-01-2016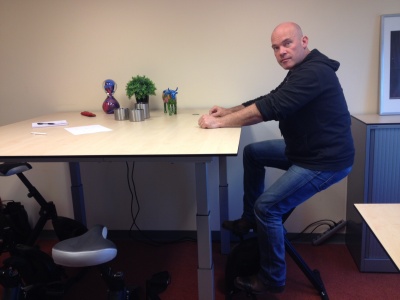 How UM Staff is Standing More
03-03-2016
At EDLAB we are encouraging students and staff to work in a more dynamic way. The Education That Moves You project has introduced standing tutorials throughout the university that will not only make you more active, but will also affect your health for the better. An increasing body of research shows that sitting is associated with health risks and depression, so standing more should be encouraged.
Sit-Stand Desks
---
With the incorporation of technology, sit-stand desks are entering the market, allowing to change the height of a desk with a simple push of a button. These simple operations allow to not only change the sitting times, but to change the entire behaviour related to our sitting habits.
Research
has shown that sit-stand desks can increase standing by more than 77 minutes over an 8 hour work day, without negatively affecting work performance.
Changing Times
---
Although sit-stand desks itself already reduce sedentary time, is has been shown that to increase standing substantially, interventions must be planned to change positions. Among the effective methods
addressed
is software that changes the desk's height according to a time plan. The software will send a message asking whether the user agrees with the change or not or would like to be reminded at a later point.
Education
---
Although the media is increasingly addressing the risks of prolonged sitting, the risks are still relatively unknown. Introducing standing work should therefore be accompanied by education on the benefits and the correct ways of standing. This need for education becomes especially evident when
highlighting
that sit-stand desks work substantially better among researchers on the topic, showing that the mere introduction is not enough; decreasing sitting times asks for a real attitude change.