So far, the academic experience I had during the MaRBLe programme has been one of the most significant ones throughout my studies. I was lucky to participate in a project devoted to the 'EU Soft Law in the Process of European Integration' (2018-2019, 1st semester) and supervised by Dr. Mariolina Eliantonio. In retrospect, I can say for sure that it allowed me to develop various valuable skills, such as profound academic research and writing, at the level which I had never experienced before, as well as presentation and communication skills.
In particular, my group was privileged to be taken to London for a conference on soft law by SoLaR (European Network on Soft Law Research) on 6-8 December 2018. This event brought together academics and practitioners from all over Europe united under the Network and engaged in research of various fields of the EU soft law. Being at that conference allowed me and my colleagues, on the one hand, to emerge into the world of professional legal research, see the actual work and people behind the books and articles we were used to reading.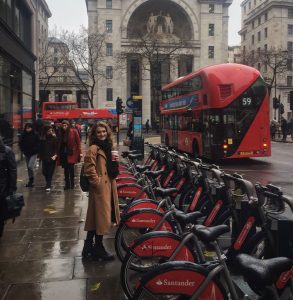 It was a great networking opportunity, with everyone ready to share their experience and knowledge with you, talk about common hardships, from the ambiguity of the concepts to the interviewees who never reply.
On the other hand, the conference gave us an opportunity to receive some profound feedback and independent evaluation of our own personal draft research papers during a workshop at King's College London. We were able to present our projects in front of several academics and King's LLM students, and for me personally, that was an experience of greatest value. In fact, I had an opportunity to receive some guidance from a person engaged specifically in the legal field I was researching, namely the EU competition law. This allowed me to take a notice of crucial factual and theoretical gaps in my research – and subsequently to deal with them, almost fully restructuring my paper. I can say without a doubt that this was a crucial moment for me in that project, which made my end-result much more comprehensive and thorough.
I am extremely grateful that we were granted such opportunity, and I am sure that I and my colleagues were able to take a full advantage of it.