Delivering Education
Note: this page is still under construction. Content will be updated soon!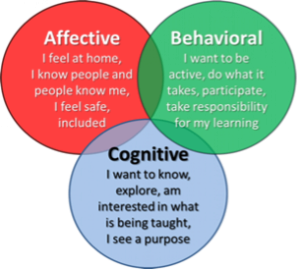 Successfully engaging your students depends largely on three aspects of your teaching: 
Affective engagement refers to students' feelings, sense of acknowledgment and belonging, through their relatedness with peers and staff.

 

Behavioral engagement follows from students knowing what is expected of them, what they can and should do, and feeling encouraged to take initiative.

 

Cognitive engagement refers to the intrinsic motivation and interest students have in their study, as well as the extent to which they use self-regulation strategies such as planning, goal setting and self-monitoring.

 
This video was recorded from a CPD webinar in Spring 2020.
Barend Last (University Library) provides practical tips and tricks to keep your online education as engaging as possible.  Slides can be downloaded here.
More information about the various tools referred to during the session is available from the tool wheel, more support in producing your own videos can be found here and assistance in using Canvas is here.
Group dynamics and interventions
Personas of students
Examples / best practices
Stefan Jongen (Faculty of Science and Engineering) discusses how to foster good online group dynamics in tutorials.  Slides are available here.
International Classroom
Working in small tutorial groups with students of different origins and with different cultural backgrounds is of great added value to our small-scale problem-based learning (PBL) system. Students who are educated in the environment of an international classroom are better prepared to work in a rapidly internationalising and globalising labour market.
Click on the button to the right to learn more.
Aincre Evans (UCM, Maastricht University) unpacks the concept of decolonization and explores where the call for decolonizing the curriculum comes from, as well as the potential it has to facilitate more interactive, inclusive, and dynamic approach to learning.
Online Lectures
If you are lecturing online, you may want to record it. This way, students who do not have optimal facilities or are in a different time zone, can still have access to your lecture. You may also choose to simply record a lecture (without audience) using MyMediasite.
You may want to replace a lecture (or parts of it) with a video lecture. All you need is a PC or laptop with a webcam and a mic. You can make a recording of your face with your webcam, slides, or a screencast, combined with a recording of your voice (narration).  
A UM licensed recording tool is Mediasite Mosaic. Mediasite Mosaic can be accessed through the Mediasite page on the library website.
Please note: Mac (macOS Catalina) users who do not have access to MediaSite need to submit a request to obtain permission to use Zoom for recording purposes. 
Tip: Write a script and keep it short. Without contact it is important to script. A recorded lecture should be concise and to the point. You might cut your lecture into different topics each of a maximum of 15 minutes. Visit Video Support for a step by step explanation to make a video.
Refer to UM Library's Video Support page for more information.