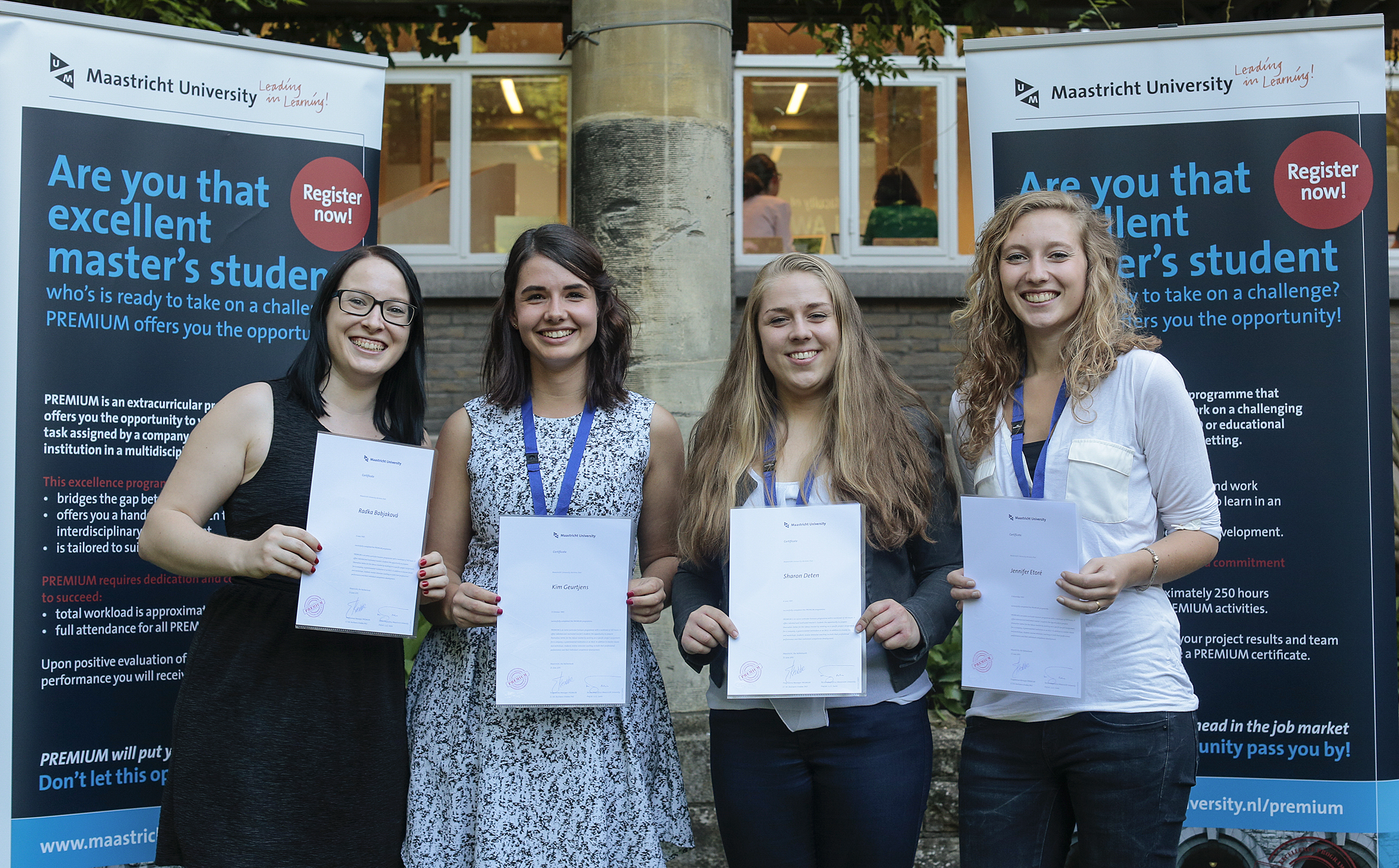 PREMIUM Spotlight: Sports & Crime "It's just sports"
29-10-2015
On Thursday the 25th of June 2015, the second annual PREMIUM Closing Seminar took place. During this day we celebrated that the PREMIUM students completed the programme. Attending students were offered one more chance to best prepare themselves for entering the job market through networking, a LinkedIn masterclass and various workshops, thus bridging the gap between study and career. All the groups had the opportunity to present their projects by means of a final poster, summarizing what they worked on during the programme and proudly showcasing the most important outcomes of their research.
The day started with a very sunny morning, during which both students and supervisors were welcomed at Ad Fundum of the Economics Faculty and were offered a welcoming drink and an impressive assortment of pastries and snacks presented in the form of a high tea. After drinks and snacks, everyone was welcomes at the aula lecture hall for an interesting and interactive lecture about LinkedIn, hosted by Welmoed Verhagen from Scredible. During this lecture the students and supervisors where informed about the do's and don'ts for becoming a LinkedIn Pro.
The second part of the day took place at the Law faculty, which has proven itself to be a very inspiring and beautiful setting on this sunny and beautiful day. Students were divided into smaller groups and participated in several workshops on various topics ranging from 'perfecting your CV' to 'finding your inner strengths'. The interactive workshops provided students with plenty of useful tips, which in the end will come in handy when preparing for the job market.
After the workshops finished, everyone came together for a networking mixer in the garden of the Law faculty and an official certificate ceremony during which the students were awarded their long-awaited official PREMIUM certificates. Supervisors, guests and students where able to connect, students presented their aforementioned project posters, and everyone enjoyed drinks and great snacks. But since PREMIUM is "work hard, play hard", all attendees got to enjoy the photo booth (whimsical graduation props included), which was present in the garden. The photo booth made it possible for students to take very funny group photos as a memory of their participation in the PREMIUM program.
All-in all, the day was a great success in which students were given the opportunity to present the results of all their hard work and at the same time enjoy interactive workshops, lectures and a very interesting networking mixer. Once again, the Closing Seminar was a great success and we are already looking forward to the next PREMIUM seminar. See you next year!