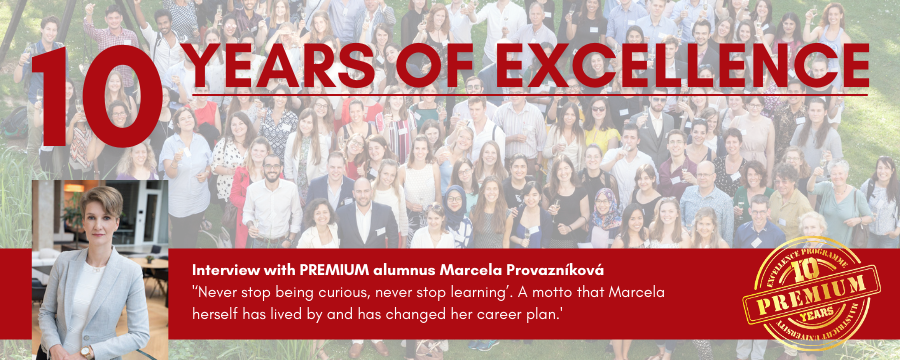 10 years of PREMIUM – A decade of Excellence
15-03-2021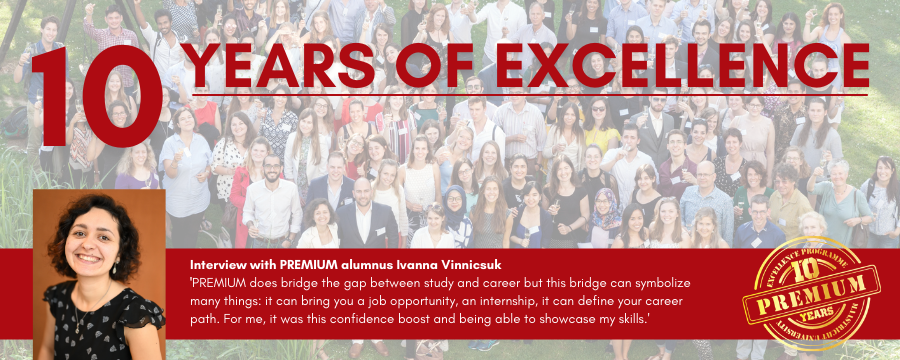 10 years of PREMIUM – A decade of Excellence
12-04-2021
In honor of 10 years of PREMIUM, we look back on what a decade of PREMIUM has meant for our alumni, coaches, mentors, clients and trainers.
Ryan was a Msc student at the FPN faculty – Work & Organisational Psychology in the academic year 2016 – 2017. During PREMIUM, Ryan was part of the project team for client Team Focus.
Sat (digitally) across from me is Ryan – a 27-year-old young professional from Australia. Since graduation and having received his PREMIUM certificate, Ryan has gained quite some work experience already: at Heineken in the Corporate HR Department, at Accenture in the Talent and Organisation Management Consulting Practice and currently at Deloitte in their Human Capital Consulting Practice, specialising in Workforce Transformation.
'My work is predominately comprised of short (~6 week) projects which involve gathering data about our client's workforce, analysing the data to determine potential improvements, creating presentations on our recommendations and supporting the client to implement our recommendations. More simply, we look at whether our clients have the right people, with the right skills in the right place, now and into the future.'
Could you take us back to when you started with the PREMIUM programme as a student; What kind of student were you? Have you changed personally/professionally, how?
'I was so much younger back then.. I would describe myself as someone who was really ambitious and open to new experiences. However, I had no professional experience other than working in hospitality for a few years (e.g. making coffee, serving drinks). The PREMIUM programme was one of the first opportunities to see what it was like to work for a company, which was Team Focus.
I would say I'm so different now! I have learned to be a lot more realistic, more client focused and I have become more professional, with a lot more experience in the work field. When you get older, you find out what you are good at and you narrow things down. For two and a half year I was pursuing a career in change management, but after some years I figured out I was not really happy doing that sort of work. So I changed completely to the type of work I do now, and I am so happy!'
What was your initial idea when you graduated, did you have a plan or idea of what you wanted to do professionally? Has this plan/idea changed in the meanwhile?
'When I graduated from Organisational Psychology, FPN, I wanted to do something that involved working with people and business but it also had to be data-driven. I knew I wanted a career where I could grow and develop in a fast-paced environment. I was simultaneously exploring several different avenues; I considered going into a start-up as a recruiter, I was looking at going into an internal HR role, and I was also considering Management Consulting. I spent a brief time working in internal HR at Heineken and learned that there was more advantage for me in working with a diverse range of clients and industries. This accelerated my growth path. After several years there, I decided that I wanted to again return to my people x business x data specialisation and made the switch to Deloitte where I'm focused on more niche consulting looking at workforce analytics, strategy and planning.'
Jumping to your experiences of the PREMIUM programme – Why was the programme a valuable experience to you?
'PREMIUM had a large impact on my career trajectory for multiple reasons. First, it allowed me to work on a challenging project where I could utilise my skills in a multidisciplinary team and provide a new solution for a client. Through PREMIUM, I was also connected to the Master Yourself pogramme and this programme helped me in getting connected to great companies located in the Euregion such as Conclusion, ING, Accenture. I actually did my first internship at Accenture and started my career here. What's more, I have learned to understand my strengths and weaknesses by means of personality assessments, which is quite valuable. And finally, the workshops helped me in putting my best foot forward.'
What kind of skills have you learned through PREMIUM, that you are still using now?
'Definitely the value of team diversity. During the PREMIUM project we had a really diverse team of people from different countries. Through this, you learn to work with people from diverse backgrounds, you learn to respect different types of thoughts and respect people for their professional abilities. Those team base skills are definitely something that I'm still using today.'
What powerful advice would you give to the current generation of PREMIUM graduates?
'I actually have 3 important ones, which really helped me and I wish I had known them when I started my career.
Set your direction early – know what you like to do, know what you are good at. Give it your best shot and go after your wildest dreams! This will help you to define your career path, which will be your point of differentiation later.
And this somewhat contradicts it, but is equally important: Keep an open mind and be ready to pivot your path. The important thing is not always WHAT you do, but often HOW you do it and WHO you do it with. At the start of my career, I had a very narrow perception of what I wanted to do, and how I wanted to do it. I quickly learned that it was often the unexpected opportunities that ended up being the most valuable. For this reason, I would advise all graduates to have their goals in mind but be open to advice that might take them in an interesting new direction.
Relationships are number one, period! Having spent several years in professional services, I can honestly say this is an important one. Strong relationships with clients are the biggest determinant as to whether they would be likely to hire you (again), or recommend you to a friend. Good relationships are built through a genuine care for others, getting to know who others are personally (not just professionally), perspective taking and empathy, delivering on and exceeding your promises (never underdelivering), and consistency. Good relationships take a lifetime to build, and a minute to break – but they will serve you for many years to come.'
Can you give us an example of how (one of) these advices – which are really good ones actually – influenced your career path?
'Sure. I used to be part of a wine society at the University of Melbourne during my bachelors degree and we used to run events for wine. I met this guy from Belgium and we became mates. He actually worked at Accenture. Later, when I was travelling through Europe I visited him again in Belgium. We sat down in a bar, and he asked me: 'What do you want to do with your life? What do you want to do with your career? What do you want to achieve?' And I actually did not know. So we sat down and made this huge matrix of all the potential jobs and things I could do and we landed on two companies: Accenture and Deloitte. It gives me goosebumps to think that, from that conversation, I ended up working for both companies. I could have never known that he would have helped me like that, he helped me ending up at Accenture, which set me up for the next success, and the next success and so on. So for me, this is the definition of relationships being number one.'