PREMIUM Events
Stay informed about all the (mandatory) events PREMIUM is hosting, from the Kick-off "Mix&Match", to the Midterm Presentations, PREMIUM pop-up events and finally the festive PREMIUM Closing Event.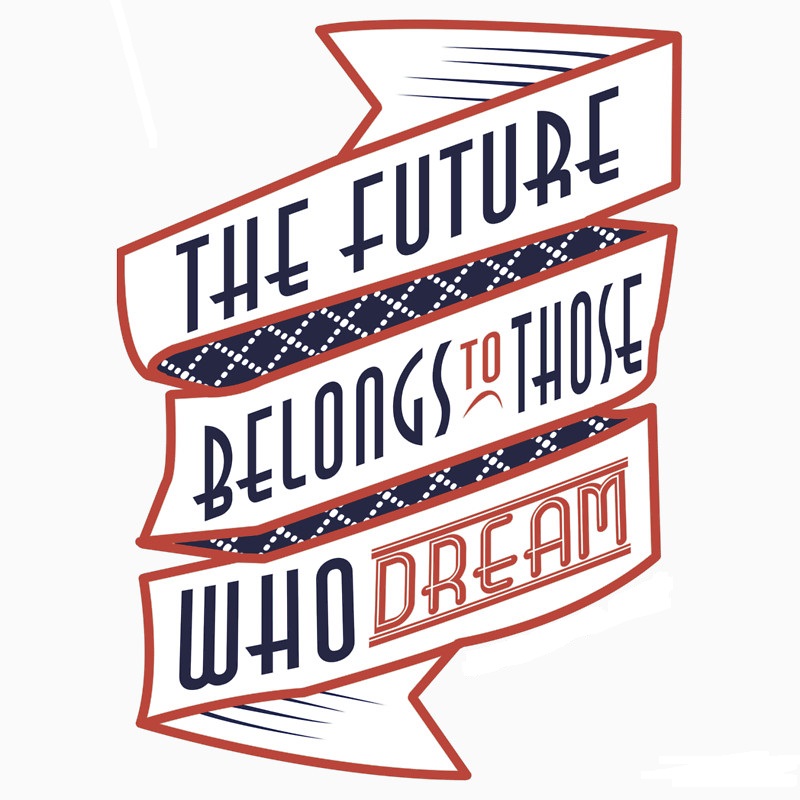 Dear PREMIUM students,

Over the course of the programme, PREMIUM organizes several central activities for all PREMIUM students, mentors, coaches and clients. All events contain educational and/or assessment elements  and offer opportunities for students, UM employees and clients to meet, connect and network. But it's also always a lot of fun!

At the central events, attendance is mandatory for all students (Kick-Off, Midterms and Closing).

If you cannot attend a central event, please refer to the section of the student handbook on "Exceptional Circumstances" or contact the PREMIUM Central Management Team.

Warm regards,

PREMIUM Central Management Team
PREMIUM Kick-Off 'Mix&Match'
This is where your PREMIUM journey officially takes off.
Jumping right in: The Mix & Match Event,
Wednesday January 11, after 18:00 hrs.
After getting through the PREMIUM selection procedure, we want to officially welcome you to PREMIUM and kick-off the programme together with a bang!
PREMIUM is a highly valuable learning experience that will push you outside of your comfort zone and help you prepare for the fast-approaching, competitive job market. PREMIUM has a lot to offer, but it is entirely up to you to get the most out of it!
In true PREMIUM style, we are offering you a great chance to take charge of your PREMIUM experience and jump right in, feet first.
On Wednesday January 11, the Mix & Match event will take place. At this event, we want to offer you the chance to find the best fit for you and your specific learning goals, yourselves.
Team formation: based on your true preferences
At the Mix & Match, all clients and other new PREMIUM students will be present and at the end of the evening, we trust you will all have a clear and definitive idea of your true project preferences.
At the end of the evening, we ask you to fill out a form to inform us of your project preferences. Additionally, clients will be asked to inform us of any team formation wishes they may have as well.
Afterwards, the PREMIUM Central Management Team will create the definitive PREMIUM project teams. Be sure to get to know and impress the client of the project of your choice to increase your chances of getting a coveted spot on that team!
How to rock the Mix & Match!
We have set up guidelines for getting the most out of your Mix & Match experience, which we will send you by email together with your official invitation to join the PREMIUM programme. We advise you to read through the guidelines carefully and prepare yourself for an evening of networking and getting to know the programme, the PREMIUM Central Management Team, the clients, the project mentors, and competence coaches, and of course your fellow PREMIUM students.
The stakes are high so choose wisely. Your PREMIUM-experience is in your very own hands. Be sure to make an informed decision about the project, client, and teammates you select as your preference.
Keep an eye on your student email account for more information concerning this event.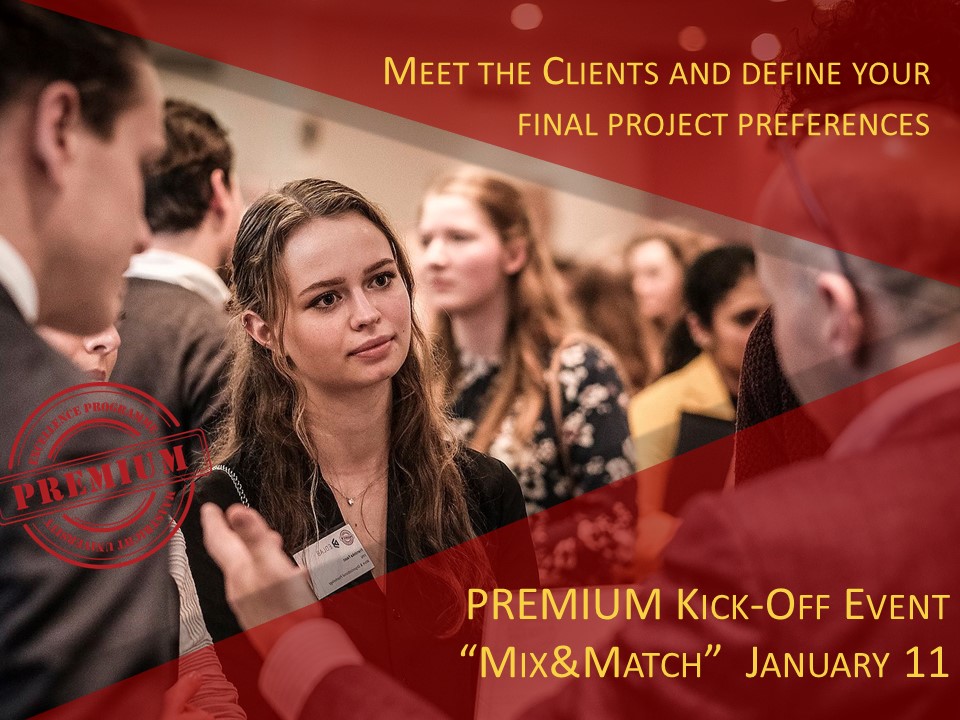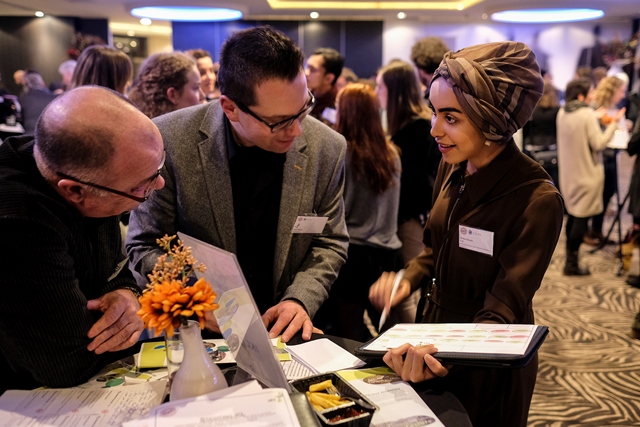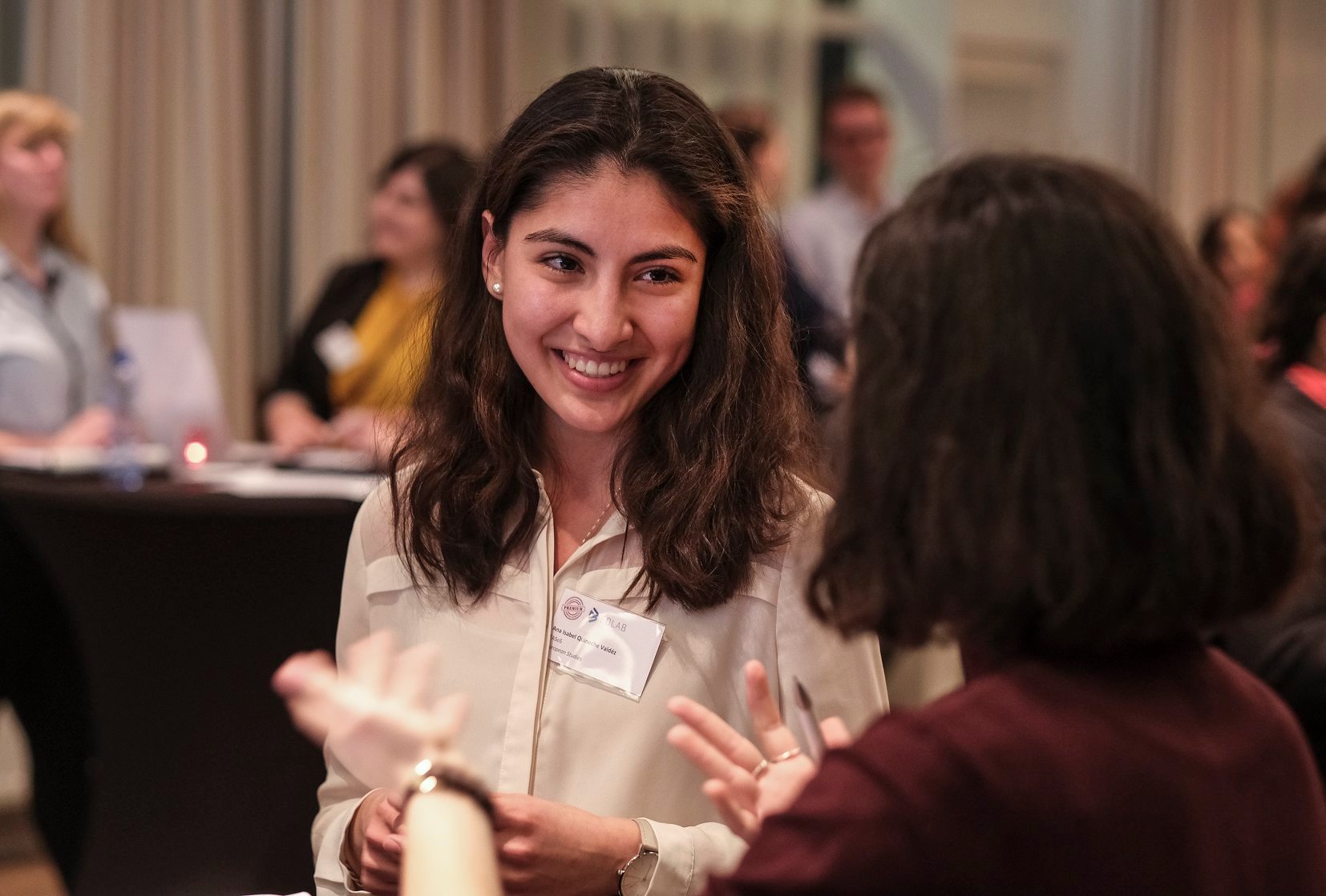 PREMIUM Midterm Presentations
Congratulations, you're halfway on your PREMIUM journey! Time to tell the world of your team's progress.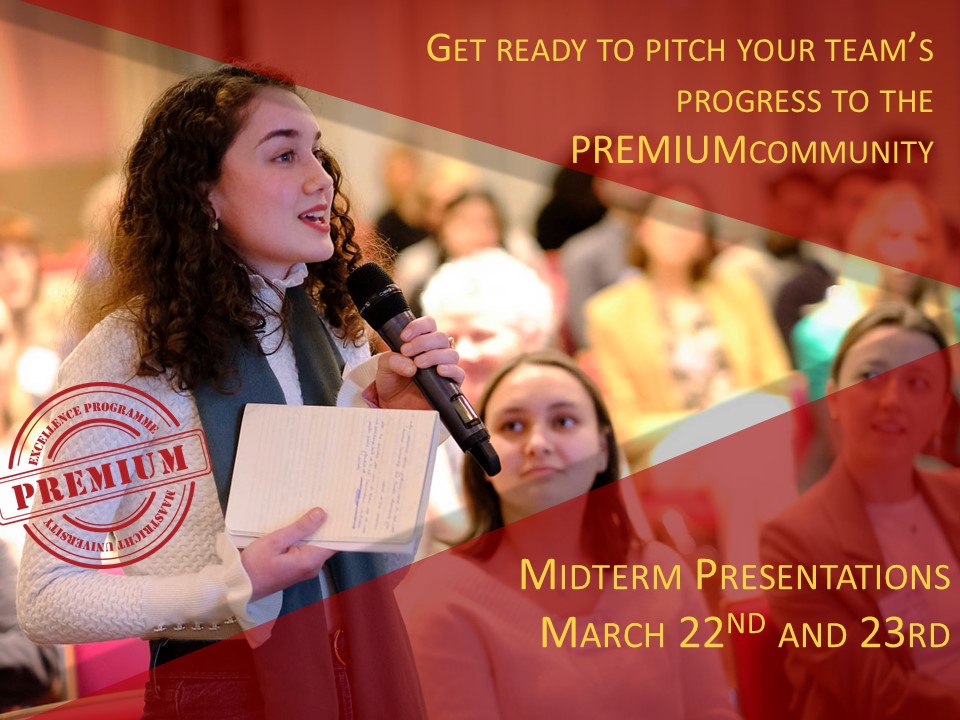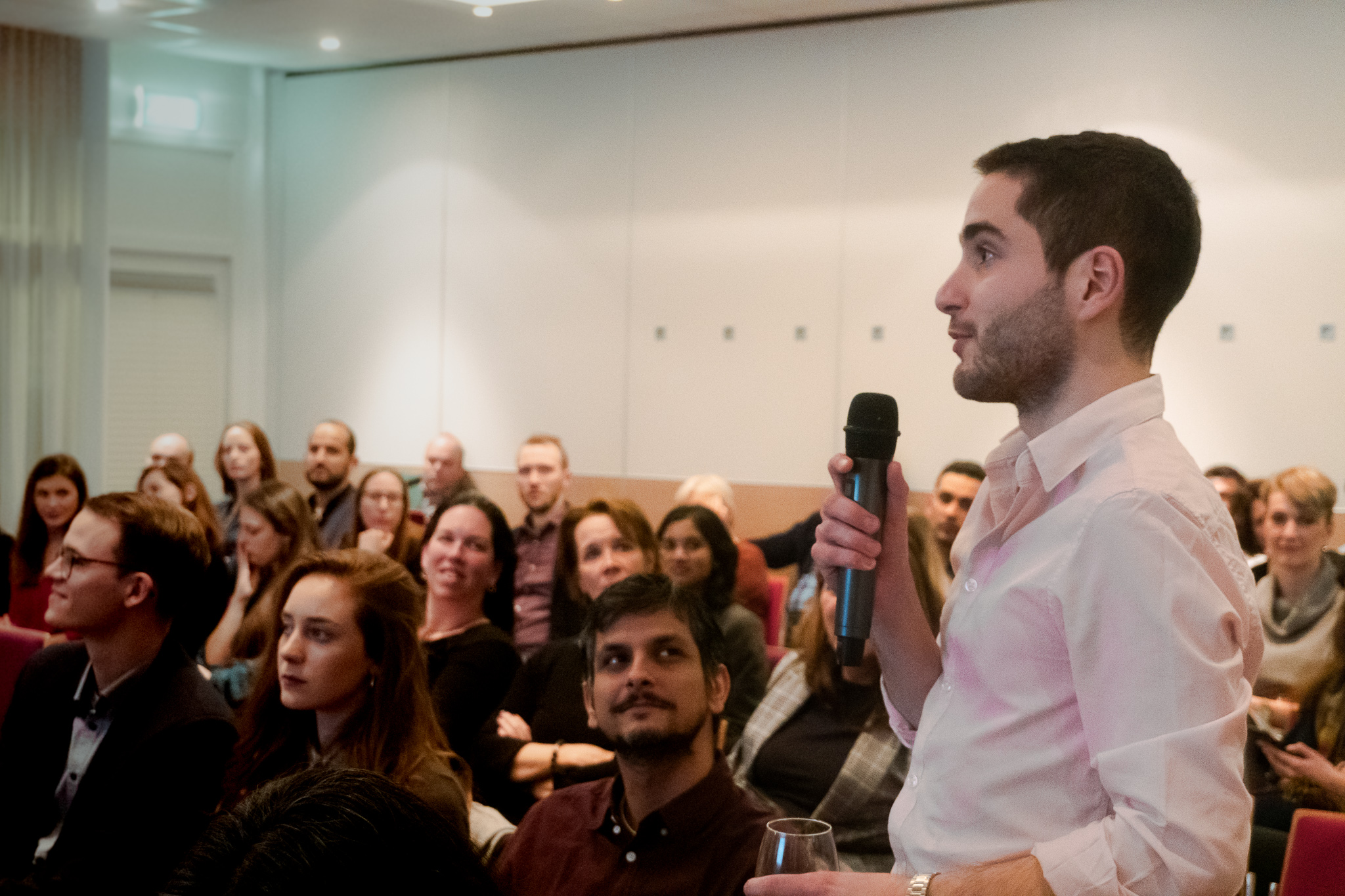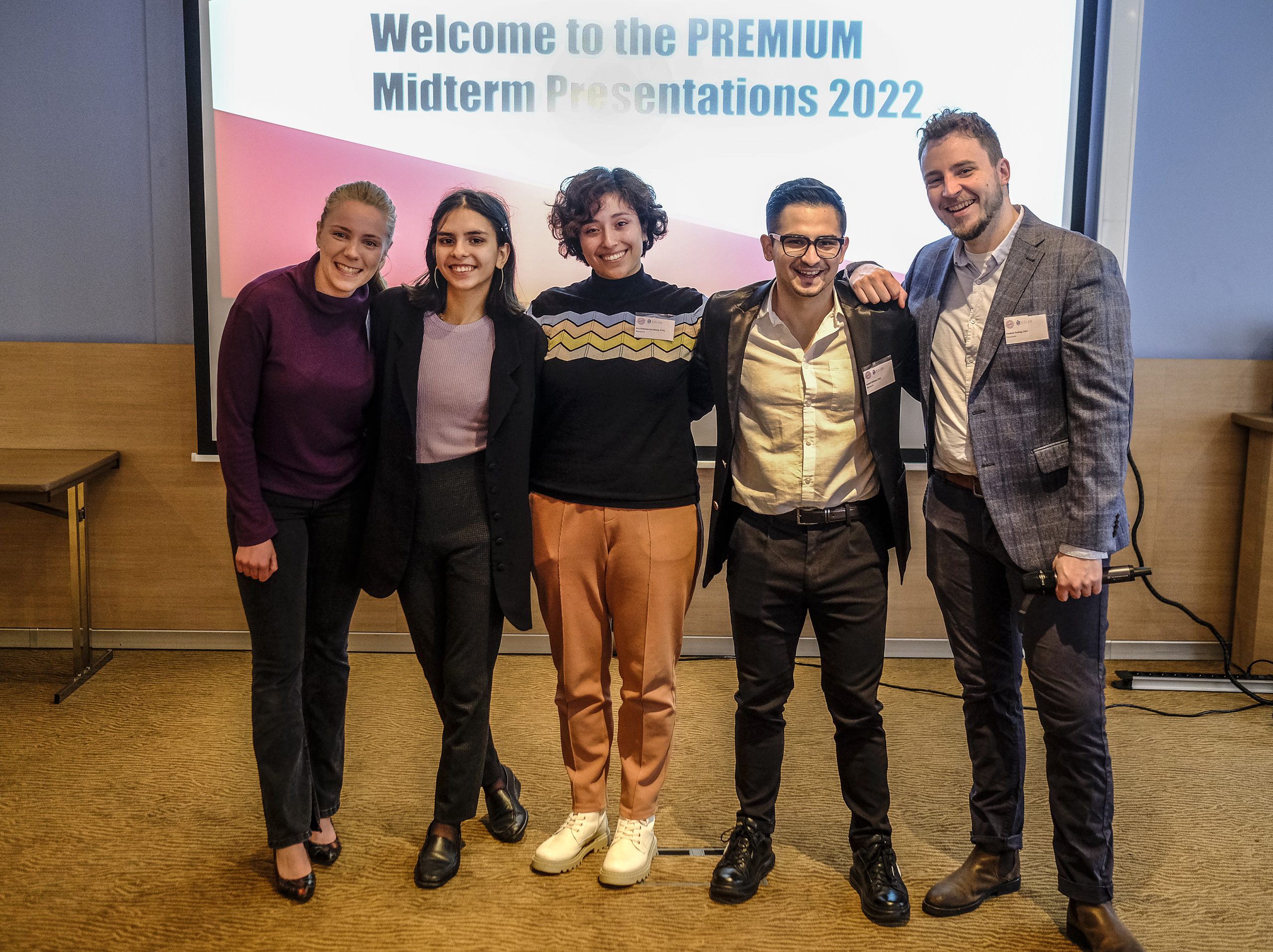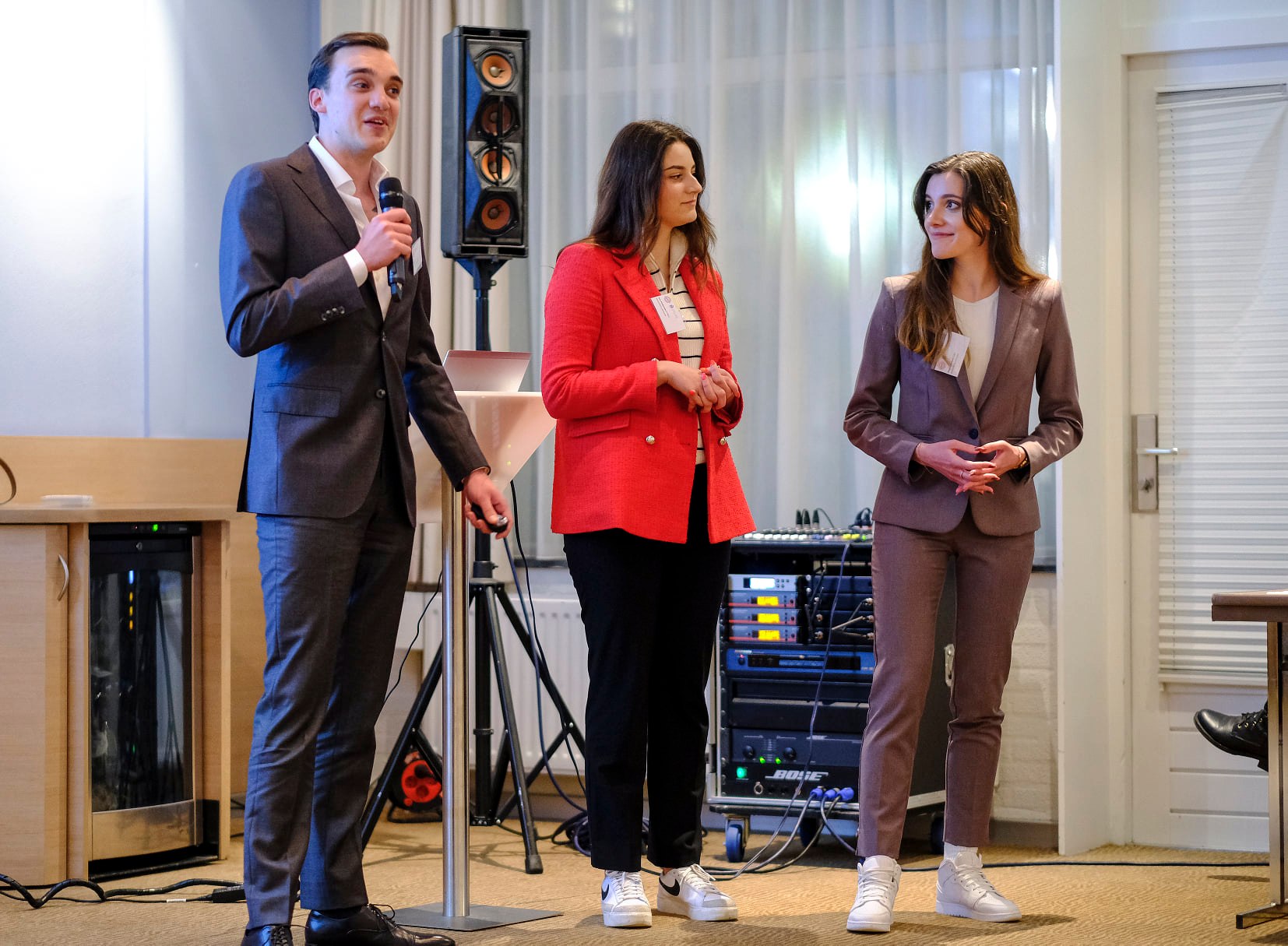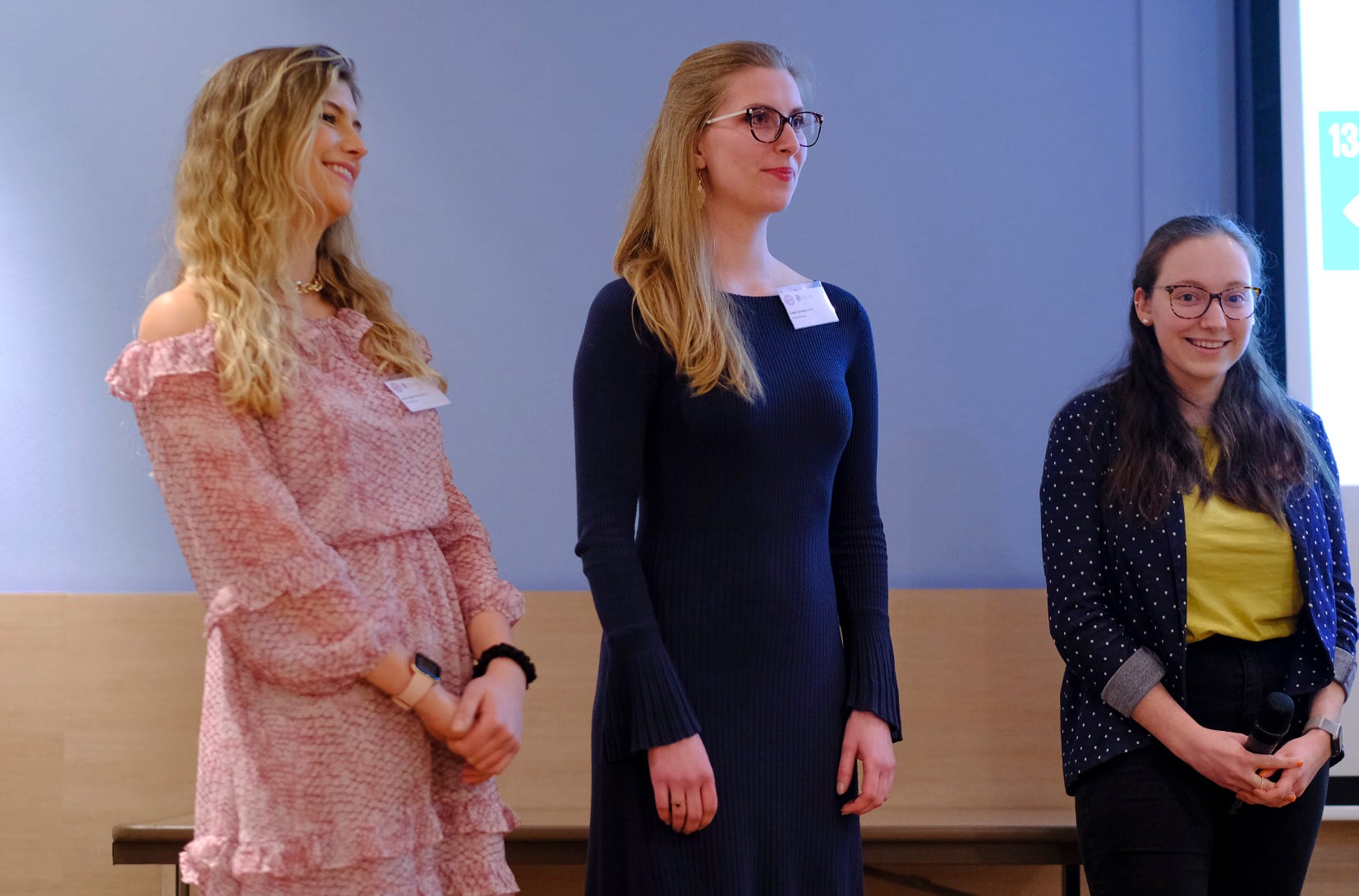 Halfway there: The Midterm Presentations
March 22nd & March 23rd, after 17:00 hrs.
Each PREMIUM student project team will have to present their project and progress by means of 5-minute pitch, during the PREMIUM Midterm Presentations event.
Pitch & Sinek's Golden Circle
A pitch is a quick and well-designed speech designed to sell a product, idea or yourself, in a very short time frame. It is designed as an answer to one essential question: why is your team spending their time on this project? Or in your future career: why are you spending the time to apply for this job and why should you be considered as a candidate?
Pitching is a tool organizations use more and more as part of their recruitment and selection procedures. Even your motivational letter can be perceived as a personal pitch. All the more reasons we feel it is important to provide you with some practical pitching experience in PREMIUM.
During the PREMIUM Midterm Presentation, we therefore request that you do a 5-minute pitch about your project progress and outcome thus far/up to the moment of the midterm presentations. You will do so, structured and based on Sinek's Golden Circle.
Why — Your project's PURPOSE: The "why" is the core motivation, vision, or "itch to scratch" for doing your project. It is the vision that motivates the entire project. It is the core upon which strategies are built.
How —Your project's PROCESS: The "how" describes the things that you want to accomplish to achieve the "why", any specific actions you have taken as a team during your project.
What — your project's RESULT (so far): What do you do? The things you do to implement your strategy for your project: plan, goals, and tactics.
Tip, Top, Q&A
After you have pitched your project progress, other teams are requested to give you positive feedback, a possible point for improvement and ask an in-depth question concerning your project. You will be invited to do the same for the other teams.
This way each team will not just practice the art of pitching, but will also practice giving and receiving constructive feedback. Providing a platform for students to recognize each other is a great way to encourage a positive atmosphere within the PREMIUM programme, all while fostering collaboration and teamwork. Furthermore, the content of the projects will be highlighted through the in-depth questions.
Programme of the evening
Each team has 5 minutes to pitch their project. After each pitch, time is scheduled for one team to give positive feedback, after which a second team will provide a point of improvement in a constructive manner, after which a third and final team will be invited to ask an in-depth question concerning the project.
The total time for each team comes out of approximately 15 minutes. Teams will present in rounds of 4-5 consecutive presentations, with a 30-minute break in between the rounds, in which drinks and snacks will be provided. At the end of the evening, we will have an informal get together to exchange experiences and socially interact.
Two Midterm Presentation evening will be organized, as there are too many teams to plan all in one evening. A schedule will be drawn up for each team when to do their presentation, and to give feedback or ask questions to which other teams.
You are only required to attend the evening your team is scheduled to deliver their pitch, although you are more than welcome to join the other evening too.
Please note that since these Midterm Presentations Sessions are part of the PREMIUM central events, attendance is mandatory for all students and a necessary requirement to successfully complete the programme.
Keep an eye on your student email account and the PREMIUM facebook page for more information concerning this event. Also, check your online student handbook section "Central Events" for the assessment criteria.
PREMIUM Closing Event
Congratulations, you have hopefully succesfully completed PREMIUM! You will receive your certificate during our festive PREMIUM Closing Seminar.
PREMIUM Closing Event
Wednesday May 31st, after 14:00 hrs.
You have reached the finish of your PREMIUM journey! What remains is a final and festive send-off into your bright futures with your brand new PREMIUM certificates at hand!
The 12th PREMIUM programme ends with a very festive Closing Event for all students, project mentors, competence coaches, and clients. This festive Closing Event aims to provide students with that last extra boost to help kick-start their professional careers upon graduating and festively close PREMIUM together with all the participating students, clients, mentors and coaches. Finally, all students who have met the programme requirements receive their PREMIUM certificate and the day is concluded in a festive manner with drinks, food, and entertainment.
PREMIUM Poster Presentation
During the PREMIUM Closing Event, each student team needs to translate their project process and outcome into an A0 poster, and present it during a poster presentation session. Hereby aiming at teaching you how to present results to non-expert audiences and peers, but also providing you with the opportunity of seeing everyone's results highlighted.
Two facilitate this; the PREMIUM community will be divided into two groups. The first 40 minutes, the first group will visit the other group at their respective posters, asking them questions about their projects. After 40 minutes, a second such session will commence where the second group will visit the first group at their respective posters.
A mystery jury will also be amongst the guests, visiting the posters, and a special prize will be awarded to the team with the best poster presentation.
PREMIUM Instagram Award
During the PREMIUM Closing Event, we are also handing out a special prize to the student team that has put most effort in their Instagram page.
The PREMIUM Central Management will select 3 nominees, after which the entire community will be asked to vote during the Closing Event for the team YOU believe has the best Instagram page. When selecting the nominees, we take into consideration the following aspects: usage of creative skills, consistency, show of teamwork, ability to get the message across.
Keep an eye on your email account and the PREMIUM facebook page for more information concerning this event. Also, check your student online handbook section "Central Events" for the assessment criteria.
Please note that since this Closing Event is a part of the PREMIUM central events, attendance is mandatory for all students and a necessary requirement to successfully complete the programme.
PREMIUM Mystery Pop-Up Events
A powerful combination of the expected and unexpected, the PREMIUM Mystery Pop-Up Events will expand your horizon even further and have you further connect with the PREMIUM community.
PREMIUM will be launching a series of specially designed Mystery Pop-Up events. Allowing you to further connect as a community, but also allowing you to pick up extra skills that you otherwise wouldn't be offered anywhere at UM.
Out of the box workshops or other events aimed at providing you with even more professional skills;
Organized at external locations, by external trainers;
Exclusively for members of the PREMIUM community (limited number, first come first serve);
Free of charge;
A chance to connect with other PREMIUM students;
A lot of fun!
Make sure to keep an eye on your student email, because you never know when an invitation to these events might arrive, and seats are limited.
Questions?
Please contact PREMIUM Central Management Team if you have any questions concerning the PREMIUM Central Events.