Student-Meet
Do you care about education? Do you enjoy studying at Maastricht University? Are you interested in innovating the education at UM? Then join EDLAB's Student-Meets and leave your mark at Maastricht University.
A Student-Meet is an informal and a low-key gathering open for all students of UM faculties. EDLAB is interested in bringing students from all different academic years together to share experiences and chat about education at UM. EDLAB organizes five Student-Meets per academic year. Every event focuses on a different theme, all with the aim of innovating education. There are no-strings attached when visiting a Student-Meet (you are thus very welcome, yet not obliged, to visit all five meetings and there is no mandatory preparation before the event).
Volume 2 | Team Dynamics
Working together with other people is a necessary skill, both inside and outside the classroom. However, teamwork is not always easy. Therefore, this Student-Meet focuses on team dynamics.
Is there a magic recipe for good group work? Do you have particularly positive or negative experiences with working in a team? What did you learn from these experiences? And what advice would you give to a group which has just started working together?
In addition to that, we will practice giving feedback, both to your peers and to those who are your superior, such as a teacher or supervisor.
Stephanie Meeuwissen, an expert in interdisciplinary team (learning) processes, learning cultures and psychological safety in the workplace, will be present at this Student-Meet. She will be able to provide insights and tips and tricks from the academic field into the event's topics:
Is there a magic recipe for group work?
(Un)equal contribution: those who contribute too little and those who dominate the group.
Speaking to superiors: how to give feedback to your teacher or supervisor?
EDLAB hopes to welcome you and your thoughts and experiences on team dynamics on January 16, 2020.
Free food and refreshments will be provided!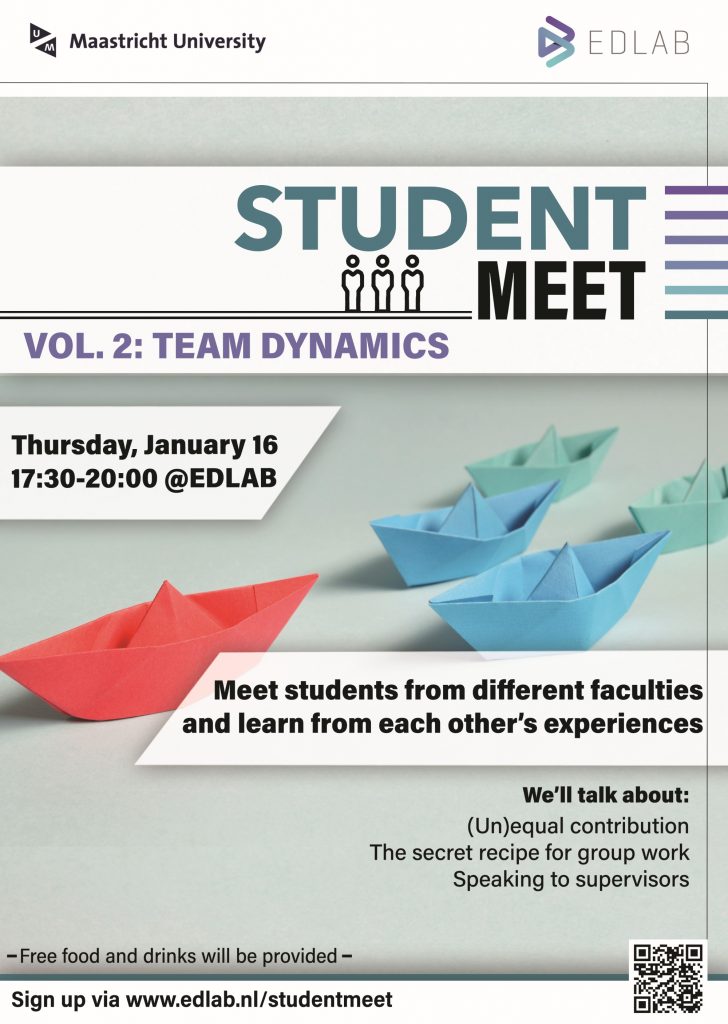 EDLAB student board
At EDLAB, we focus on continuously improving and innovating education at Maastricht University. In doing this, we take into account the needs, desires and ambitions of students and teaching staff of Maastricht University.
By creating a student advisory board, we want to gain better insight in the student perspective on education innovation at UM. We want to hear and understand what UM students feel and think about studying and education at Maastricht University. Participating in this board allows students to reflect on education innovation of our unique PBL system.
The student board is composed of students from all six UM faculties and meets every 8 weeks at EDLAB.