Student-Meet
Do you care about education? Do you enjoy studying at Maastricht University? Are you interested in innovating the education at UM? Then join EDLAB's Student-Meets and leave your mark at Maastricht University.
A Student-Meet is an informal and a low-key gathering open for all students of UM faculties. EDLAB is interested in bringing students from all different academic years together to share experiences and chat about education at UM. EDLAB organizes five Student-Meets per academic year. Every event focuses on a different theme, all with the aim of innovating education. There are no-strings attached when visiting a Student-Meet (you are thus very welcome, yet not obliged, to visit all five meetings and there is no mandatory preparation before the event).
Volume 3: Engagement during a pandemic
Part 2: Best practices for impactful work
EDLAB and the Student Project Team warmly invite you to join part two of the Student-Meet concerning  engagement during a pandemic to discuss the best practices for active and impactful work in a study organisation.
In the second part of this volume of the Student-Meet, study organisations will share their knowledge and experience on how to recruit new members, organize events, or how to transfer knowledge between boards. Take the chance to network with other student associations and discuss how to engage your members even more effectively.
The event will take place on Wednesday, the 10th of March at 18.30, on Remo. More information will also still follow on the speakers invited to this Student-Meet. The event is open to students from all UM faculties, yet specifically targeted at members of study associations. In order to join, please register via the link below.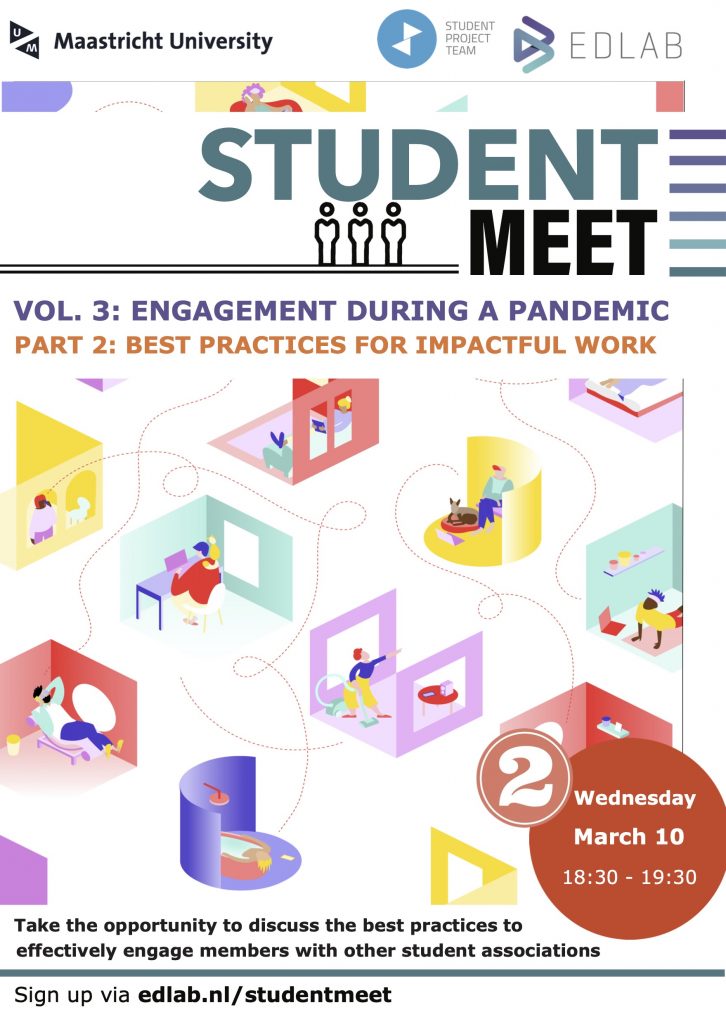 EDLAB Student Advisory Board
At EDLAB, we focus on continuously improving and innovating education at Maastricht University. In doing this, we take into account the needs, desires and ambitions of students and teaching staff of Maastricht University.
By creating a student advisory board, we want to gain better insight in the student perspective on education innovation at UM. We want to hear and understand what UM students feel and think about studying and education at Maastricht University. Participating in this board allows students to reflect on education innovation of our unique PBL system.
The EDLAB student advisory board (ESAB) is composed of students from all six UM faculties and meets every 4-8 weeks at EDLAB.

Programmes for Excellence Education
EDLAB offers the UM wide excellence programmes to promote the quality of education and fulfil an integral part of UM's performance agreements, UM has developed a range of excellence programmes for ambitious, motivated, high-performing students.
At EDLAB we further develop, implement, and centrally coordinate these programmes. More specifically, we aim to facilitate a challenging (interdisciplinary) learning environment in which students of demonstrated quality are offered extracurricular opportunities.