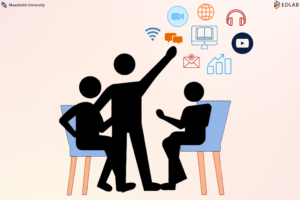 An interactive event on technology-enhanced education at Maastricht University
For teaching staff and students!
Date: Wednesday 19 April 2023
Start Time: 13:30
End Time: 16:30
Location: EDLAB, St Hubertuslaan 12, Tapijnkazerne 23, Building X
On Wednesday 19 April 2023, from 13.30-16.30, EDLAB will organise an interactive afternoon for teachers and students around the topic of digital classrooms.
The COVID-pandemic has affected the way we teach and learn. Digital technologies have entered the classroom in many ways, and this trend is expected to continue. This means that we need to become constantly better skilled in using these technologies.
Our event will showcase examples of educational initiatives in which either teachers or students have made use of digital technologies. Think of having students create a video or a podcast instead of attend a lecture or write a paper. Or setting up an escape room where students can apply the knowledge acquired in class, or students creating Wikipedia pages to demonstrate comprehension and practise writing skills.
Where applicable, teaching staff will present practices in collaboration with one or more students. The presentations will be interactive and offer the opportunity for hands-on experiences.
We look forward to an inspiring event for both students and teaching staff in unleashing the potential of technology-enhanced education at UM!
Escape the ordinary: Unleashing the potential of digital classrooms
Sign up below...
April 19, 2023
Escape the ordinary: Unleashing the potential of digital classrooms
Start Time: 1:30 pm
End Time: 4:30 pm
Available Spots
3 Filled, 67 remaining: Sign up »