The EDLAB teach-meets bring together teaching staff from all UM faculties to discuss issues and innovative approaches in the classroom. In an informal setting you can listen to some short speeches, discuss with your peers or even pick up the microphone yourself.
Upcoming Teach-Meet | Student Well-Being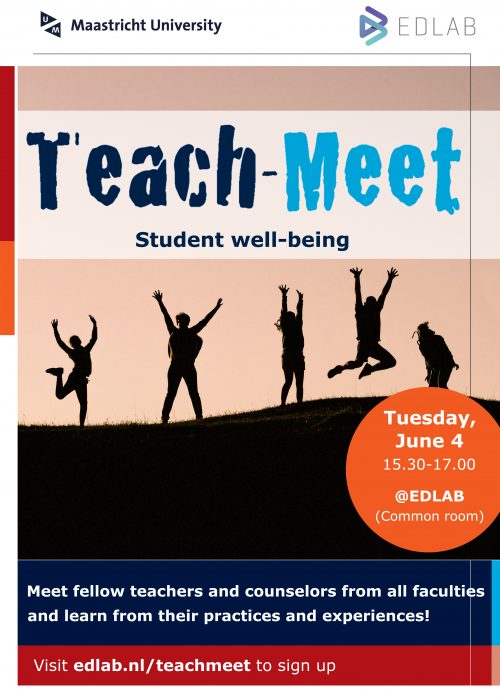 Over the recent year, student well-being has become an important topic for higher education institutes. Teachers see fierce competition between students, whereas study advisors and student psychologists are coping high numbers of students with stress-related issues. Maastricht University has even declared student well-being as one of its ambitions in the 2018 quality agreements.
During the teach-meet a couple of UM colleagues will address the issue from both a teacher and student-guidance perspective.
Do we for instance see a different performance culture amongst students? Do students perceive more stress? As a tutor, what could you (not) do to mind student's well-being? Does it impact the way you design your educational activities? And what type of support does the UM offer and how can innovations in student guidance make a difference?
When? June 4 | 15:30 – 17:00
Where? EDLAB common room
Twice a year, EDLAB organizes a UM teach-meet for the UM teacher community. During this event, teaching staff from all UM faculties can join and share their experiences and best practices regarding currently debated topics in higher education. Scroll down to get an impression of the UM teach-meet.