Videos in Education: A two-part series
From concept to finished product
Workshop description
Restrictions relating to COVID-19 have reshaped the way we organize and deliver our education. When using a video conferencing tool, lectures and tutorials they need to be limited timewise to ensure effective learning without overstraining both students and staff. Supplementing and/or replacing live (online or offline) sessions with pre-recorded videos in a variety of formats, has proven an efficient format that is greatly appreciated by our students, as they can watch anytime, anywhere and at their own pace. Not only during online education, also now, as we return to the face-to-face lecture and tutorial format, the use of video can replace transmission of knowledge from your lecture hall or classroom and enhance interactivity during contact time.
If you want to create your own educational videos, this workshop series will prepare you to make a successful start.
Description
In the first on-campus session on 26 October 2021 (15:00-16:30 CET) we will discuss several didactical scenarios within a PBL setting and relate videos to learning outcomes. Then you will learn about various video formats, effective video design and how to deal with copyright. Together we will go through all the steps of the video pre-production phase, including scripting, video design, resources and tips and tricks for the actual production phase: filming
The sessions are supported by online access to videos instructions and there will be time to ask questions and receive feedback. As one learns best by doing, you will be asked to complete a few assignments to prepare for session two, namely writing your own brief and script and recording or collecting some video material.
In the follow-up online session on 16 November 2021 (15:00- max. 17:00 CET), you will be carefully guided through the basics of video-editing and have the chance to try this out for yourself in a step-by-step manner supported by an expert.
After the second sessions, you will have the opportunity for constructive feedback if you finish  and submit your video before the 30th of November.
As good design leads to more engaging videos, we highly recommend you follow both sessions.  However, should you wish to delve straight into second online session, specifically focusing on the editing process, this is also possible.  You can request this by e-mailing us directly at edlab-edservice@maastrichtuniversity.nl
About the trainers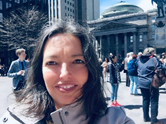 Ilse Sistermans, MDE. Specialist open, online & blended learning, holds a Master degree Distance education and E-Learning at University of Maryland Global Campus. Ilse has a special interest in open and flexible learning, lifelong learning, competence-based education, student mobility, micro-credentials, and internationalization. At UM, her tasks include project-based contributions toward (online) education development, consultation of teaching staff, faculty, and management, on blended and online education, learning spaces, and video in education.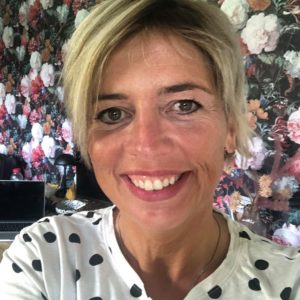 Ilona Steege, Video creation and support (ECS), Videoproducer and 2d animator. Ilona has 25 years of experience in producing television programs, as a producer, presenter, cameraman and editor. 10 years of children's television and youth television. Started her own business and started traveling for a few years. To make a living she sold her travel show to a regional broadcaster, using limited technology to produce on location. After traveling she specialized in educational videos and animations, infographics and recruitment videos. For the rest commercials, documentaries, reports, videoclips and much more. Ilona now works part-time for UB, and part-time independently.
A note about the costs
EDLAB is currently offering all CPD activities free of charge. Please note however that we have paid to develop and offer this session together with the trainers, so if you sign up but cannot attend, we would greatly appreciate it if you could give us at least 5 days' notice so that we can advertise your spot to others who may be interested. Cancellation without at least 5 days' notice or failure to show up may result in your department being charged the full cost price.
EDLAB reserves the right to postpone this event should a minimum of 6 participants not be reached.
Activity full or can't make this date? Then sign up for the waiting list and we'll let you know as soon as this event is scheduled again.
PLEASE NOTE that the first workshop will take place on-campus at EDLAB TAPX, and the second workshop will take place online via Zoom. You will receive the exact location details or a link in an outlook invitation prior to the event.
Sign up below...
Videos in Education Training (26 October & 16 November 2021)
Start Time: 3:00 pm
Available Spots
6 Filled, 6 remaining: Sign up »