Online workshop:  Skills training for on-camera teaching
Workshop description
This practical training is designed for UM teaching staff who would like to improve their on‑camera teaching skills for a variety of online and remote education scenarios.
At the end of this three hour online workshop, you will feel more confident in teaching to the camera and be able to convey information more effectively to students.  Our aim is to enhance the educational experience of your students, whether you are teaching online via live video sessions or when making recorded material for educational purposes.
In this workshop, you will learn how to hone your on-camera teaching and presentation skills to perfection by covering the following topics:
Framing the shot, background and sound.
Body language and appearance.
Pace, tone and pitch.
Pausing, projecting and enunciating.
Engaging people in different scenarios.
Increasing your confidence on camera.
Talking to the lens – how not to appear wooden
What to say in a piece to camera – scripting and bullet points.
Voice over techniques when talking over pictures, video and powerpoints
Because this is a small-group session, you will also have the opportunity to practise and get direct feedback from our trainer, Julian Dismore.
PLEASE NOTE that this workshop is in English and planned to take place via zoom. You will receive a link in an outlook invitation prior to the event.
About the trainer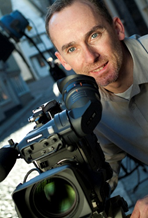 This training session will be given by Julian Dismore, TV Series Producer and Media Skills Trainer at Direct Productions UK Ltd.  Julian is an award winning TV series producer & director who has produced over forty primetime series for various broadcasters, including BBC1, National Geographic, Discovery Channel, Animal Planet, Netflix and Sky.  Julian has vast experience in delivering web video presentation and production skills training for many universities and other companies. Read more about Julian's work and credentials here: www.directproductions.co.uk
Duration
1 x 3 hour online workshop
Costs
Due to the continuing challenges arising for our teaching staff due to the COVID-19 situation and in order to provide quick and essential teacher support, EDLAB is able to offer this course to you free of charge.  Please note however that we have paid to develop and offer this session together with the trainer, so if you sign up but cannot attend, we would greatly appreciate it if you could give us at least 4 days' notice so that we can advertise your spot to others who may be interested.
EDLAB reserves the right to postpone this event should a minimum of 6 participants not be reached.
Activity full or can't make this date? Then sign up for the waiting list and we'll let you know as soon as this event is scheduled again.
Online workshop: Skills training for on-camera teaching
Sign up below...
October 28, 2021
Skills training for on-camera teaching
Start Time: 1:30 pm
End Time: 4:30 pm
Available Spots
7 Filled, 5 remaining: Sign up »