Teaching for Global Citizenship: Unleash your potential
René Brauer (SBE), Herco Fonteijn (FPN), and Inge van der Putten (FHML) December 5th 2022 – February 2nd 2023
7,5-hour module, divided over several sessions/activities
The sessions in module 1 will be interactive and there will be a 30 minute preparation before the start of the first session. This will be sent in advance to all participants registering for the session.
UM's strategic programme, The European University of The Netherlands, states: "UM (…) imparts on its students the core values of global citizenship"; "We will integrate competences such as global citizenship and 21st century skills into courses for students, enabling them to continue their personal and professional development after graduating"; "All our students develop global citizenship competences geared to the needs of the labour market, making them highly employable".
Not every teacher will immediately know how to translate these lofty goals into action. Therefore, three independent CPD modules have been designed to help programme and course coordinators, planning group members, educational designers and interested teaching staff to understand what Global Citizenship Education (GCEd) entails and to embed (aspects of) GCEd into their course or programme. This first module is scheduled to start December 5th. Modules 2 and 3 will be on offer in Spring 2023 and all modules have been designed in such a way that they can be followed independently of each other.
This first module, Teaching for Global Citizenship: Unleash your potential, invites participants to become acquainted with GCEd, while we explore what drives us as teachers during gamified exercises. Participants will explore ways to inject GCEd in personally relevant teaching activities and/or the formal curriculum. This module has a study load of either 8 or 16 hours. Participants who opt for 16-hr module work on a personally relevant GC educational design problem. Afterwards, micro-grants will be awarded to help participants implement the most inspiring GCEd activities. The two onsite sessions in module 1 on December 5th and February 2nd will be interactive. Preparation materials will be sent in advance to all participants registering for the session.
The table below contains a detailed overview of the sessions in module 1.
Date
Duration
  Description
In participants' own time
30 min online
Participants prepare for the CPD sessions by watching a knowledge clip on the why and how of GCEd, and browsing examples of how aspects of GCEd are implemented across faculties.
Mon 5 Dec 13.00-16.00
3 hr onsite
Theme: the teacher as a global citizen. After briefly recapitulating the overarching vision, participants identify what it means to be a global citizen, and try to make their personal vision and drives explicit. Next, the group will ideate on what this can mean in their teaching practice. Finally, participants can opt for an assignment that aims for either direct impact on their daily teaching practice, or indirect impact via constructive alignment of formal curriculum elements. They will also reflect on how to bring the discussion to their department/ community of practice.
Mon 9 Jan 16:00-17:00
Optional: 1 hr online
Online check-in: participants can share progress, questions and feedback
Thurs 2 Feb 13.30-16.30
3 hr onsite
Theme: teaching for global citizenship. After flexing creative muscles, participants will gather feedback on their assignment and relate this to their personal vision for GC.

Next, ideas for implementing GCEd are presented in a world café format. At different tables, ILOs, assessment, and teaching and learning activities are highlighted.

Participants opting for a 16hr module can send in a short report on their proposed GCEd innovation. They will receive feedback from moderators soon afterwards.

Inspiring proposals are eligible for microgrants.
Intended learning outcomes
Participants understand what GCEd entails and how it can be implemented
Participants can reflect on how being a global citizen impacts their teaching
Participants can integrate (facets of) GCEd in their teaching practice
Participants can constructively align aspects of a formal curriculum with GC competencies
Trainers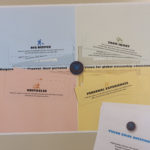 René Brauer (SBE), Herco Fonteijn (FPN) and Inge van der Putten (FHML) are members of the UM GCEd working group and have monitored faculty implementation of GCEd initiatives at their respective faculties.
Sign up below...
Teaching for Global Citizenship: Unleash your potential (5 Dec 2022 & 2nd Feb 2023)
Available Spots
7 Filled, 17 remaining: Sign up »