Engaging students as active participants in their education through student-staff partnerships
Professor Mick Healey and Dr Ruth Healey
Healey HE Consultants
5 October 2022 – 15.00-17.00
2-hour online workshop via Zoom
The online session will be interactive and there will be a handout to download and read parts of BEFORE the session.  This will be sent in advance to all participants registering for the session.
"Universities need to move towards creating inclusive scholarly knowledge-building communities. … The notion of inclusive scholarly knowledge-building communities invites us to consider new ideas about who the scholars are in universities and how they might work in partnership." (Brew 2007, 4)
Ways of engaging students in higher education as partners in learning and teaching is arguably one of the most important issues facing higher education in the 21st Century and is a key factor influencing student success. In the uncertain environment associated with COVID-19 student-staff partnerships are even more important as a means of enhancing student success. We will unpack what is meant by students as partners and examine four ways in which students may be engaged as partners through: a) Learning, teaching and assessment; b) Subject-based research and inquiry; c) Scholarship of teaching and learning; and d) Curriculum design and pedagogic advice and consultancy. The themes will be illustrated with mini case studies from different parts of the world in both face-to-face and online contexts. We will also discuss the values which should underpin student-staff partnerships. Participants will be asked to share their stories and approaches to student-staff partnerships at the University, and begin to think about how they can build on and develop new initiatives to engage students as active participants in their education through student-staff partnerships.
Biographies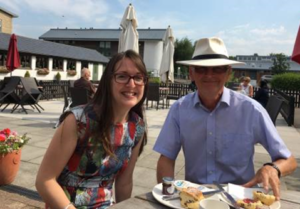 We have presented together many times, including giving keynotes and workshops in Australia, Canada, Netherlands, Ireland, Hong Kong, Singapore, UAR, United Kingdom, and United States.
Mick Healey is an HE Consultant and Researcher and Emeritus Professor at the University of Gloucestershire, UK. Until 2010 he was Director of the Centre for Active Learning, a nationally funded Centre for Excellence in Teaching and Learning. He is The Humboldt Distinguished Scholar in Research-Based Learning at McMaster University, Canada. Mick is an experienced presenter. Since 1995 he has given over 500 educational presentations in more than 25 different countries.  He has written and edited over 200 papers, chapters, books and guides on various aspects of teaching and learning in HE, and has over 13,500 citations.
Dr Ruth Healey is an Associate Professor in Pedagogy in Higher Education at the University of Chester, UK where she has been since 2009.  In 2016, she also joined Healey HE Consultants.  She has actively researched into learning and teaching issues since 2004. Her pedagogic research interests include teaching for social transformations, debates, ethics, and students as partners.  Ruth has written around 50 pedagogic publications and given over 70 workshops, presentations and keynotes in 10 different countries. She became a Senior Fellow of the Higher Education Academy (HEA) in 2014; in 2017 was awarded a National Teaching Fellowship (NTF); and in 2019 was awarded one of nine inaugural fellowships of the International Society for the Scholarship of Teaching and Learning (ISSoTL). In 2018 she was a Group Leader at the International Students as Partners Institute at McMaster University.
A list of our publications may be found at www.healeyheconsultants.co.uk. Extensive bibliographies and conceptual frameworks and case studies of practices on engaging students in research and inquiry, and students as partners and change agents, are available on our website under resources. We co-authored Students as Partners guide: Student engagement through partnership – A guide to the Advance HE Framework (2019).
Duration
1 x 2 hour workshop
1x 15-20 minute preparation prior to workshop
PLEASE NOTE that this is workshop is in English and planned to take place online via Zoom on 5 October 2022. You will receive the exact details and Zoom link in an outlook invitation prior to the event.
Activity full or can't make this date? Then sign up for the waiting list and we'll let you know as soon as this event is scheduled again.
Sign up below...
October 5, 2022
Engaging Students through Student-Staff Partnerships
Start Time: 3:00 pm
End Time: 5:00 pm
Available Spots
20 Filled, 20 remaining: Sign up »