Decolonising STEM: Why and How? 
At the beginning of December, EDLAB will be welcoming Daniel Akinbosede from Sussex University who will be running a webinar and online workshop for us on Decolonising the Science Curriculum.
The webinar will take place from 10am-11:30am CET on Tuesday December 7th and will delve into the reasons why Decolonisation is needed in the sciences.
This webinar will form the basis upon which the interactive workshop, one week later (Tuesday 14th of December 10:00am-11:30am CET) will be based. Please be aware: it is not possible to participate in the workshop without first attending the webinar.
Description
Scientific disciplines are well known for their grounding in objectivity and fact-driven research practices. As a result, it is easy to assume that new educational initiatives such as 'decolonising the curriculum' are not relevant in our fields. This two-part CPD activity seeks to make the case that the opposite is true. In order to maintain our reputation, we must re-evaluate how we do and teach science, particularly to serve, include and elevate the most marginalised in our disciplines.
Our speaker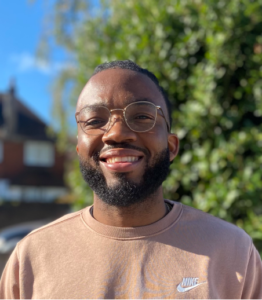 Daniel Akinbosede is a PhD researcher at the University of Sussex. His research focuses on proteins that allow Neisseria bacteria to highjack iron from human blood as a nutrient source. He is a keen advocate for embedding inclusive and anti-racist pedagogy in STEM teaching and research, as well as throughout the higher education sector.

Duration
1 x 1,5 hour webinar
1 x 1,5 hour online workshop
Costs
Due to the continuing challenges arising for our teaching staff due to the COVID-19 situation and in order to provide quick and essential teacher support, EDLAB is able to offer this course to you free of charge.  Please note however that we have paid to develop and offer this session together with the trainer, so if you sign up but cannot attend, we would greatly appreciate it if you could give us at least 4 days' notice so that we can advertise your spot to others who may be interested.
EDLAB reserves the right to postpone this event should a minimum of 6 participants not be reached.
PLEASE NOTE that this webinar and workshop will take place online via Zoom and you will receive an outlook invitation prior to the events with the final details.
Activity full or can't make this date? Then sign up for the waiting list and we'll let you know as soon as this event is scheduled again.
All spots have been filled.
Decolonising STEM: Why and How? (7 & 14 December 2021)
Start Time: 10:00 am
End Time: 11:30 am