Maastricht not only is the home to a 42-year-old University but is also the cradle to many student organisations such as PINE, the Green Office, the Refugee project and student representation bodies. All organisations have enriching goals and are carried out in vibrant ways. However, it is chatting over a drink at the end of September 2017, that three socially engaged students at Maastricht University (Anina Strey, Sebastian Hühne and Sinan Akkurt) realised the lack of an umbrella organisation that would not only help students do better what they do but stay well while doing it. This was a turning point for what would later become the ImpactLab.
As an initiative supported by the Student Service Centre and EDLAB, and based on the best practices of other organisations, ImpactLab came to being throug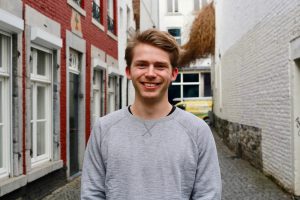 h informal talks with socially engaged students and a qualitative study at a Maastricht University-wide level. This approach was a concrete fashion to examine how well individuals are prepared for their social engagement. One of the recurrent challenges that ensued was the difficulty in communicating efficiently and transferring knowledge among members of an organisation, from one year to another. When interviewing Sebastian Hüne, the co-founder of ImpactLab and the current Research and Evaluation Officer, he explains how the succession of roles usually entails the loss of rich knowledge accumulated throughout the year. The absence of a close follow-up leads to the loss of "know-hows" which in turn does not allow an organisation to attain its full potential. Therefore, ImpactLab provides a structure that allows individuals to develop skills to be able to manage their social engagement in a constructive and efficient way.
Albeit this initiative was designed to solve a common issue Maastricht University students encountered, it is meant to reach a broader public. In fact, ImpactLab wants to spread and raise awareness about what they do and what they can provide to anyone socially engaged. This initiative's goal is to provide socially engaged people in Maastricht a format that can facilitate sharing best practices. ImpactLab also organises far-reaching events where it collaborates with other organisations to build a broader network and influence the community of Maastricht through various means. The bigger events consist in giving lectures on the topics of social impact, sustainable development and civil engagement. Regarding sustainable development, ImpactLab has at its core the Sustainable Development Goals (SDGs). The purpose of the SDGs, according to Sebastian Hühne, is that "it is about building a community that will sustain and prosper in the future".
More concretely, ImpactLab is a social accelerator providing a platform for socially engaged individuals to share their motivations and vision. If you are socially engaged then ImpactLab might be the place for you to pay a visit, for two reasons:
It provides soft/hard skills expert-workshops about communication and team building for example, as well as more position specific workshops which entail social media skills, webcare, leaderships skills. These are qualities that can be shared by experts but also from peer-to-peer. However, a question remains: how is it possible to remain this efficient and competent while enjoying what you do?
This is why ImpactLab is working to become a cutting-edge organisation which equally offers a mindful/resilience track which allows anyone to be at his best, emotionally and physically. This mindfulness track more broadly teaches how to remain happy while being a full-time and socially engaged student.
ImpactLab is an enriching initiative and can be of benefit to any person willing to have a social impact in the Maastricht community. Most importantly, it is about "doing better what you do, and staying well doing it". Interested? Then, sign up to their mailing list to participate in their expert workshops and/or peer-to-peer trainings! For further information, do not hesitate to have a look at https://umimpactlab.com/.
Meet the ImpactLab team:
From left to right: Ilya Malafei (Public Relations Officer), Sinan Akkurt (Team Leader), Olga Bostan (Events Coordinator), Sebastian Hühne (Research & Evaluation Officer). Anette Piirsalu will take Sinan's position from next year onwards.