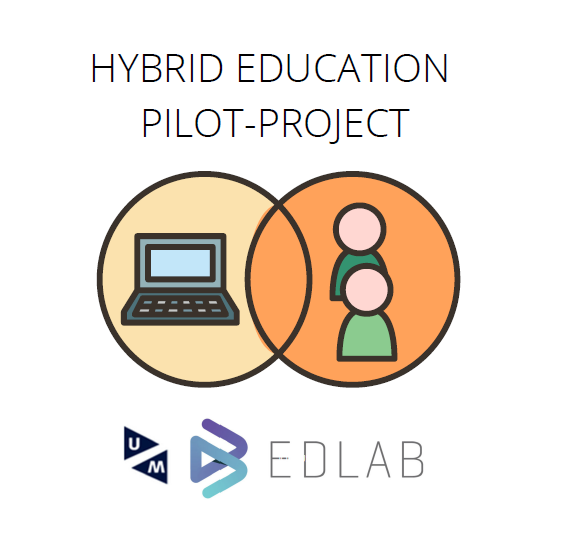 Introduction 
The Technology Enhanced Education (TEE) program at EDLAB is searching for contributors in its hybrid education pilot-project. The pilot-program aims to provide a suitable experimental ground to test what hybrid education formats could work and in what context, creating a space for a constructive dialogue involving educators, managers, and students. The premise is explicitly not to reinvent the wheel but to bring together existing initiatives to develop hybrid learning at UM.  
Hybrid learning refers to a a synchronous learning activity, such as a tutorial session, in which part of the students take part online, and another part is physically present. Hybrid learning is not the same as blended learning. Blended learning refers to enriched student-centred learning activities, made possible by the harmonious integration of various strategies, achieved by combining face-to-face interaction with ICT. This means that blended learning is an approach to educational design, whereas hybrid learning is a classroom setting. In other words, in blended learning there is interdependence in learning activities. A student does an online activity first, and then a face-to-face one. But in hybrid learning there is no interdependence. From a student perspective, it's either fully online or fully on-site.
Current standings 
We have already done a needs assessment and inventory of learning spaces within faculties. The data gathered via focus groups, surveys, and needs analyses, showcase valuable insights on the capacity of UM to facilitate hybrid learning. The current setups are only suitable to provide an emergency solution when education unexpectedly must switch back to a stripped-down or online variant (e.g., in case of new COVID-19 restrictions). However, there are many potential advantages in hybrid learning that go beyond emergency education, such as increased educational access and opportunities, as well as interest in keeping up-to-date with modern exigencies. 
Our results also revealed a need to identify more clearly what is UM's goal with and view on hybrid learning, to what extent UM is interested in implementing it further, and if its advantages are worth the investment it requires.  
The pilot-project 
To address some of those issues, we aim to bring together a community of UM members with experience or ongoing initiatives in hybrid education. In the coming months, the TEE-programme will host several co-creation sessions at EDLAB where attendees will provide input on identifying user persona's (e.g., teaching staff and students) and brainstorm on possible educational scenarios to facilitate in a hybrid learning format.  
Once those steps have been realized, a high-end technological solution will be installed and tested with. Having concrete educational scenarios will assist in creating the best possible (technical) solution for our learning spaces, providing a space to pilot PBL in a hybrid format. 
Are you interested in joining both co-creation sessions and assisting us in developing the educational scenarios for hybrid education? Fill in the following contact form. For more information about the project, please contact Barend Last at barend.last@maastrichtuniversity.nl. 
Sign-up form for the co-creation sessions