On 1 March 2018, the long-awaited Global Citizenship Education (GCE) Symposium was organized at the Faculty of Psychology and Neuroscience. Maastricht University's students, staff, and community stakeholders got reunited to discuss the role of global citizenship in higher education.
No teleprompter, no speech paper. It is this way that the UM's Rector Magnificus, Rianne Letschert, gave a thrilling presentation. She recounted the story of an inspiring woman who survived the Rwandan genocide and who, to her, represents an emblem of strength and courage. This uplifting discourse officially launched the GCE Symposium. A panel discussion followed, consisting of international, national and local professionals, each representing their organization.
Marieke Brugman discussed how the "UNESCO Associated Schools Project Network", ASPNet, operate in the Netherlands by giving a few examples of how GCE is already implemented in a variety of forms within their educational curricula. Their central aim is to promote peace and international understanding from the earliest days.
"Trajekt", an initiative to bring people with different walks of life together in Maastricht, was presented by Mardoeka Christensen. She narrated the story of Frank, a man whom albeit life had given him an acerbic mood, connected with students in a purposeful manner, as a part of this initiative.
Kate Robertson, co-founder of "One Young World", gave a stimulating and unconventional speech: "We think we have a choice but we do not!". Those words meant to illustrate young leaders' responsibility in helping others, an obligation that comes with the privilege of being born in a safe country and having access to education – among others.
Representing "de Bildung Academie", the panel discussion ended with Roos van Amstel who put the emphasis on strengthening students' personal development, as well as fostering social responsibility.
All, without exception, gave thought provoking discourses. Their projects and initiatives convinced us of the importance of being a global citizen.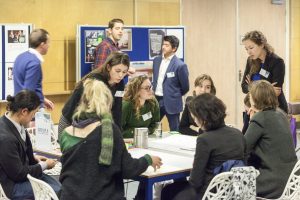 These inspiring community stakeholders joined the following stage of the Symposium: engaging in a design thinking session to trigger co-creation with the UM staff, and students. The audience, divided into eight groups and pressured by time, had only one hour to come up with a few ideas of how they would implement GCE in UM. What a stimulating and successful challenge! Why? Not only did people from different backgrounds shared insights (in a fun way!) on how to address GCE in UM education; it was also a moment where all barriers were broken down between students, professors and community stakeholders in order to cooperate and achieve fruitful ideas. All groups presented their thoughts during a wrap-up session and as promised, the Symposium ended with drinks and snacks. The path to becoming a Global Citizen could not have been more engaging!
This event was organized and hosted by project leader Herco Fonteijn, and EDLAB's coordinator for Innovation, Valérie Drost. Supported by an enthusiastic team of UM staff and students, they collaborated in the making of this successful Symposium. Though it being the conclusion of the initial EDLAB Global Citizenship Education project, it is also a starting point to further nurture Global Citizens at Maastricht University.
Stay tuned and find out more about the follow-ups of this UM project!