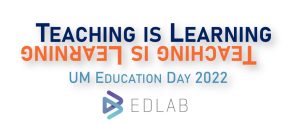 On June 1 2022, EDLAB will host the first UM Education Day – a day to learn, share and exchange ideas and new practices regarding educational design and delivery, assessment and feedback, research and innovation, international classroom and diversity, excellence programs, mentoring and advising. A day of inspiration and recognition, for and by members of the UM teaching and learning community.
The UM community of teachers and learners is vibrant and diverse, and full of creative and innovative ideas and initiatives: course coordinators experiment with new formats, tutors explore ways to engage students during off- and online conversations and collaboration, students develop recommendations within and outside the curriculum, EDLAB and Task Force Learning & Innovation grant recipients experiment and do research on educational theory and practice.
It is about time to celebrate all this creativity and dedication.
Therefore, on June 1, 2022, EDLAB will host the first UM Education Day, with an exciting programme revolving around the awareness that "Teaching is Learning", and… learning is teaching.Teachers, researchers, students, coordinators, each with their own specific perspective on teaching and learning, will share insights, findings, and great practices regarding a wide variety of topics.
Participate in workshops, listen to presentations, join in on conversations, visit the info fair, and more.
Stay tuned for more information on the EDLAB website and elsewhere!